4SP Group company London are an experienced piling contractor in London with an extensive range of piling rigs. By ensuring that we can choose the right piling rig and piling technique required for your project, we can mobilise quickly to help you move closer to the next phase of your project.
We thrive on the type of projects that another piling contractor in London may walk away from, specialising in restricted access piling with rigs ranging from 1.5t to 15t. We offer piles ranging from 150mm in diameter to 750mm and in addition to piling, we are also able to install ground beams and capping beams which link the piles to create a basement construction platform.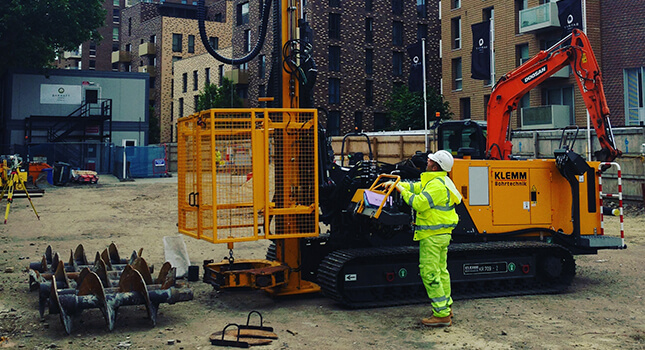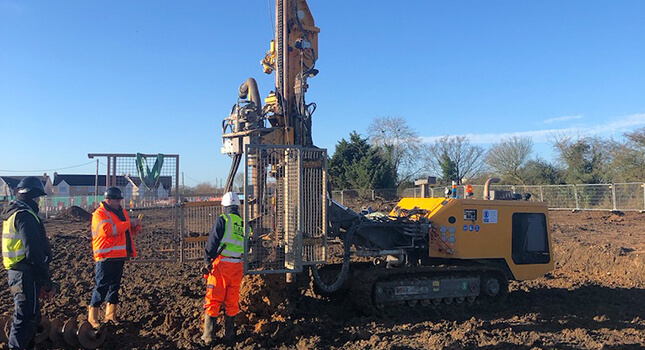 Contact an Experienced Piling Contractor in London Today
We are always available to offer the best advice on the piling services available and whether ground beams or capping beams will be required for your project. If you would like to find out more information from our accredited basement construction company London and piling contractor in London or you're looking to get a quote for your job, don't hesitate to contact our construction specialists at 4SP Group.
Enhance your property with reliable construction services
Why Choose 4SP Group?
Upmost Attention to Detail
Practicality, safety, longevity and aesthetics are never overlooked by our professional team.
Full Project Managment
Years of experience providing quality solutions to meet our clients' goals has allowed us to perfect the process.
Independant & Flexible
Working around your schedule, count on our team to carry out their work in the most efficient way for you.
Maintaining Professionlaism
Maintaining our high standards at all times, the team are all extremely experienced within the industry.
Responsible & Unobtrusive
We keep disruption to your daily life as limited as possible, keep you informed through every step of the process.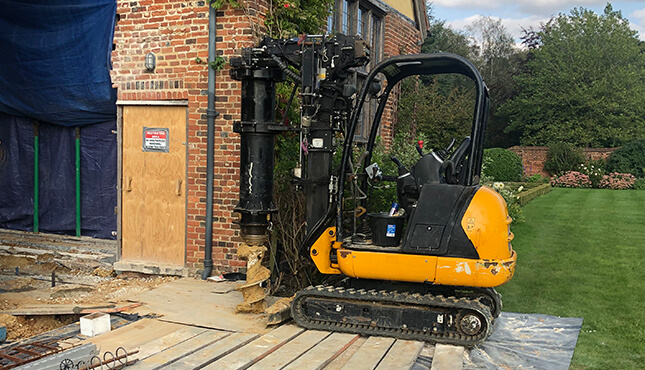 Mini Piling
Over the years, 4SP Group company London have become recognised for delivering the near impossible in comparison to other mini piling contractors in London. We specialise in the provision of mini piled systems, offering a mini piling service utilising piling rigs from 1.5 to 15 tonnes. On the majority of occasions, these do not require piling mats or specialist provisions.
Our mini piling equipment can be used for work inside buildings and in locations where restricted access piling services are needed. These occasions could include scenarios where headroom is an issue and the use of larger piling systems would be impossible.
CFA Piling
Continuous Flight Auger (CFA) piling involves drilling downwards with a hollow auger. Once the required depth has been reached, concrete is injected through the auger as it is pulled up and out of the hole. In doing so, a continuous reinforced concrete pile is formed, which stops at ground level as the auger reaches the surface. CFA piling is an efficient technique if carried out by a trustworthy CFA piling contractor in London, being used with most ground conditions and having the advantage of causing very little disturbance to surrounding areas.
Open Bore Piling
The open bore piling method allows for a greater range of sizes and depths of pile. All of the rigs at our disposal are extremely high powered which make them ideal for dealing with most ground conditions. Our bored piling machines are capable of installing pile from 150mm to 750mm to a maximum depth of 30 metres and once the required depth is reached, a reinforcing steel cage can then be installed and the pile concreted.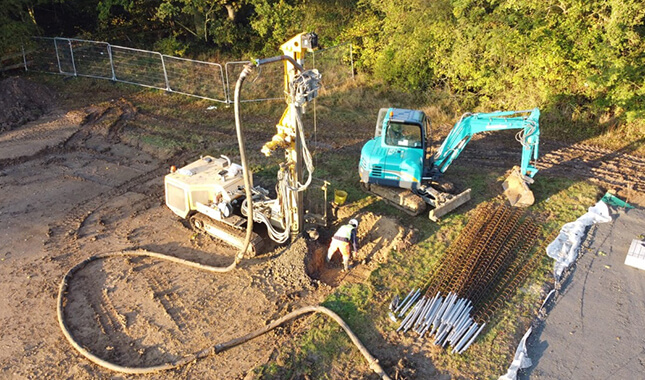 Below Ground Retaining Walls
A piling contractor in London would generally use this method for sites where groundwater is not an issue. Retaining walls are created by installing a series of piles close together, positioned so that they almost touch each other, leaving a gap of around 100mm between each pile, forming a robust retaining wall. These embedded piles create structurally sound walls for basement excavation. There are two main systems for creating retaining walls: contiguous bored pile walls and secant bored pile walls.
Secant Piling
This retaining bored pile wall system involves the installation of the piles in such a way that they overlap using a male and female pattern. The secant piling technique forms a watertight seal and thus provides a solid barrier against groundwater flow.
Cased Piles
These piling services work by using temporary casings to create a watertight seal through wet or unstable ground conditions down to a more stable strata of clay below, which enables us to drill beyond to the specified depth. The benefits of case piles are less over break, reduced concrete consumption, open clean pile bore for easy inspection and the ability to achieve greater depths.