Foundations are an integral part of a project, requiring a high level of precision. As established foundation construction specialists, 4SP Group are on hand to carry out effective foundation construction in London as advised by the professional design team. The requirements of each project vary, depending on numerous factors which include the type of soil and levels of moisture. We will liaise directly with the environmental consultant and professional design team so we are ready to hit the ground running with the requirements for your project, establishing the best type of method for foundation wall construction.
Get in Touch With Foundation Wall Contractors
The team at 4SP Group have over 35 years of experience dealing with foundation construction in London for a wide variety of projects, making us a highly skilled company. We are used to being proactive and are on hand to help problem solve should the need arise, being able to provide the ideal solution for your project. Contact us today to speak to one of our team for expert advice and a speedy no-obligation quote for foundation construction in London.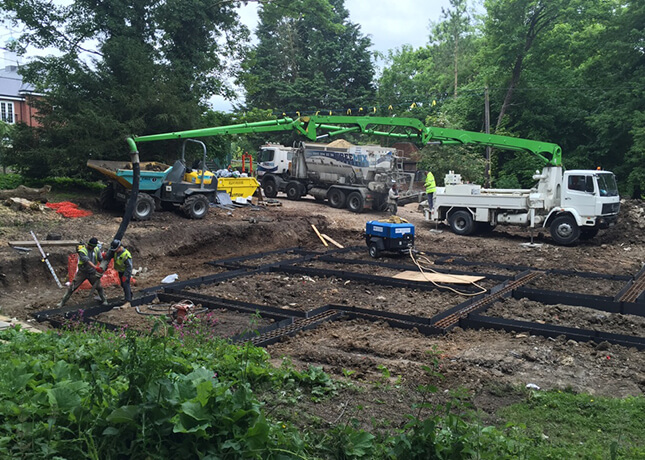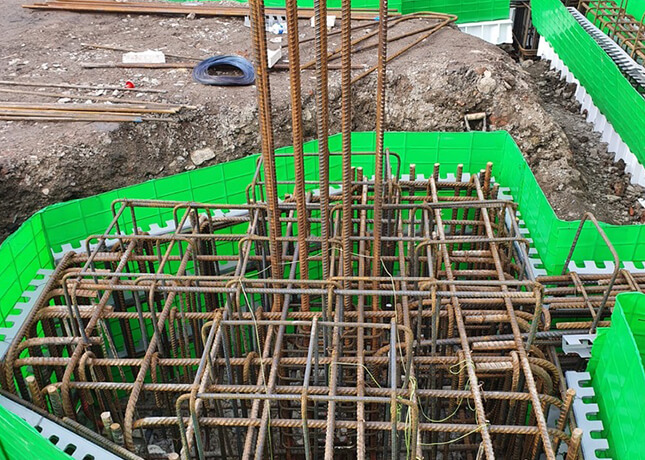 Ground Beams
Ground beams offer an alternative to other types of foundation construction in London and are typically built from reinforced concrete which is constructed at foundation level. Their primary purpose is to support walls where the soil below is weak. Typically ground beams are often quick to implement which can speed up the construction process whilst providing an effective solution during the construction stage.
Pile Caps
A pile cap is used to distribute the weight of a building, creating stable foundations where the ground below is soft or unbalanced. Pile caps consist of a large concrete mat that will sit above the piles to carry the load of the structure being built above.
Enhance your property with reliable construction services
Why Choose 4SP Group?
Upmost Attention to Detail
Practicality, safety, longevity and aesthetics are never overlooked by our professional team.
Full Project Managment
Years of experience providing quality solutions to meet our clients' goals has allowed us to perfect the process.
Independant & Flexible
Working around your schedule, count on our team to carry out their work in the most efficient way for you.
Maintaining Professionlaism
Maintaining our high standards at all times, the team are all extremely experienced within the industry.
Responsible & Unobtrusive
We keep disruption to your daily life as limited as possible, keep you informed through every step of the process.
Case Study
Greenwich, London – 61 Unit Student Scheme
Here we helped the main contractor on a very time constrained project with the clearance of the previous warehouse and installing foundations in an area where there is a high UXO risk. The 4 storey concrete frame for this high end student scheme had the rooms and upper level corridors built from modular construction.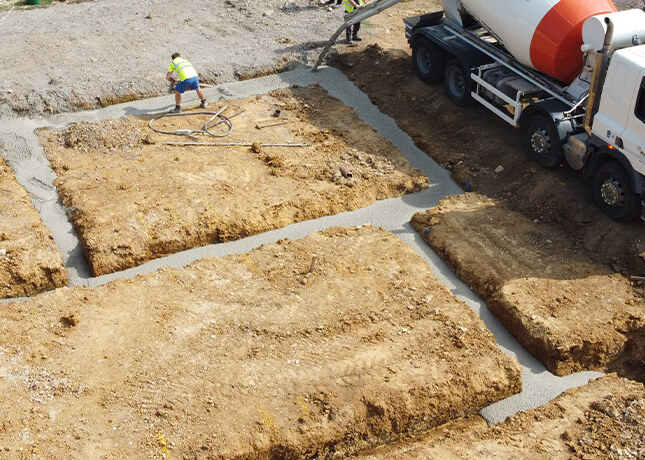 Strip Foundations
This form of foundation construction in London is the most popular and consists of a continuous strip of concrete supporting load-bearing walls. There are typically two kinds of strip foundations:
Deep strip foundations
Deep strip foundations are used where the building foundations need to be at a lower level. The process consists of digging a deep trench to reach the soil which can then be used to undertake deep strip foundations. After this, the strip foundations are dug and poured before a wall is built up to ground level.
Wide strip foundations
If the soil is soft or cannot bear a heavy load, wide strip foundations will be recommended. The wide strip foundations spread the load over a larger area and are reinforced with steel to reduce the loading per m².
Raft Foundations
Raft foundations are suitable for weak soils but also expensive soils including peat and clays. They hold the weight of a building above the soil, avoiding the risk of expensive foundation repairs in the future.Wide strip foundations wouldn't work in this scenario as they would not spread far enough and the soil would not be able to withhold the foundations. This option is also much more cost-effective than having to pour and reinforce a concrete slab.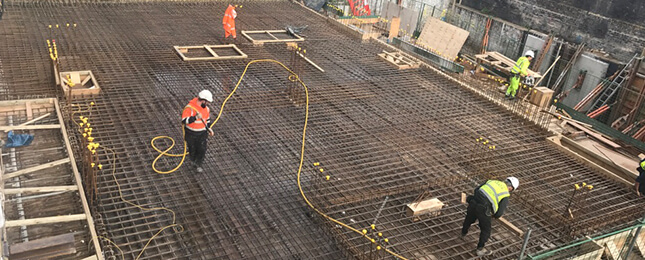 Pad Foundations
Typically, foundation wall contractors will recommend pad foundations to distribute the weight being put on the ground through individual or multiple columns. The shape in the foundation plans will be determined by the composition of these columns but generally, they tend to be square or rectangular, being determined by the agreed bearing pressure of the soil. The thickness of the foundations vary to suit the distribution of the load and the weight being applied to the ground below and often the slab will be higher in the middle than around the edges, being tricky to construct but providing an economic resolution.
Trench Fill Foundations
This type of foundation wall construction is becoming increasingly popular compared to deep strip foundations due to the high labour cost entailed. Requiring a smaller trench to be dug as building masonry below ground level is not needed, it can save time and cost due to less concrete and manpower being required.
Typically, the trench fill foundation process requires a trench to be dug until the soil can provide sufficient load-bearing capacity. At this point, it can be filled with concrete and sometimes steel reinforcement, dependant on the individual property conditions.